SERVING
100+

BUSINESSES,

500+

USER COUNT,

3

DAYS SETUP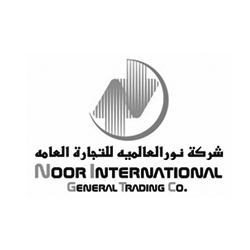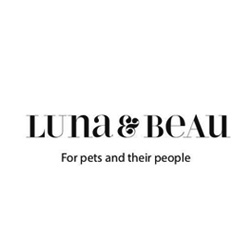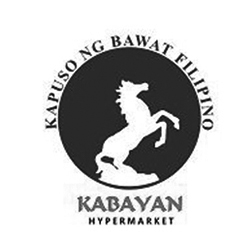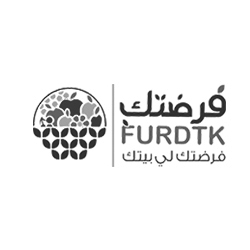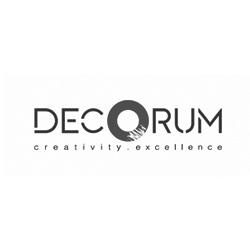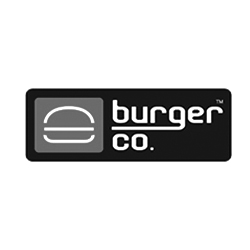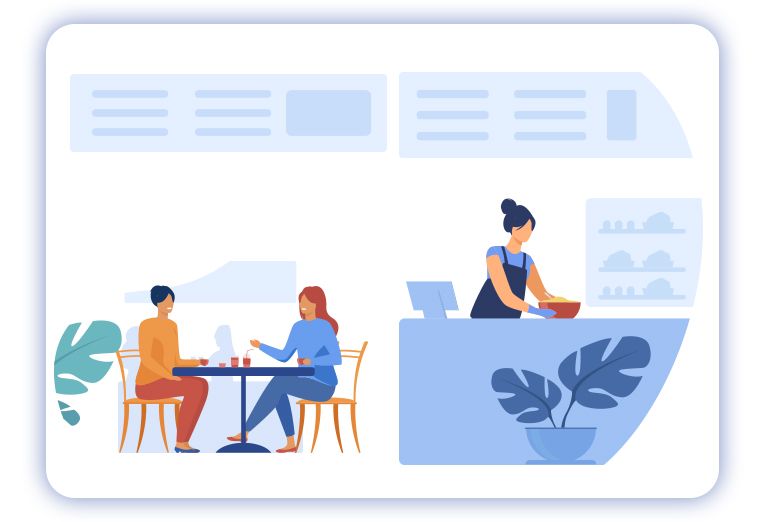 Complete Restaurant Solution!
Boost Profits by streamlining all key functions for your Cafe & Restaurant Business.
Axanta's Restaurant ERP Software allows you to manage all your business processes directly from the back office without any effort. From Pricing to Inventory Management, to Analyzing Sales, Managing Offers and Cutting Costs, all Data and Information are delivered instantaneously across the whole operations giving you a real-time overview of your Food Business.
If that's not enough, a suite of automated features helps save precious time, allowing the head office to focus on providing optimum service to the customers.
CENTRAL ORDER TAKING (CALL CENTER)
With Axanta's Central Order Taking Module (COT), process orders for any location.
Customers can place an order through the phone, either on-line or visiting the store. The Central Authority, which is taking the order only needs to enter the customer address. Basis the customer address, nearest store will be automatically selected in the system & once the order is placed, notification/alert will be sent to the store to prepare and deliver the order.
Manage orders from anywhere to save time and increase efficiency with Axanta.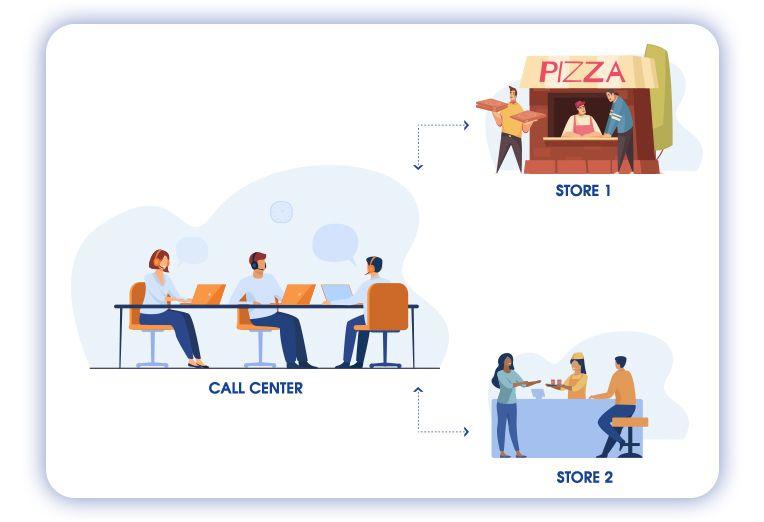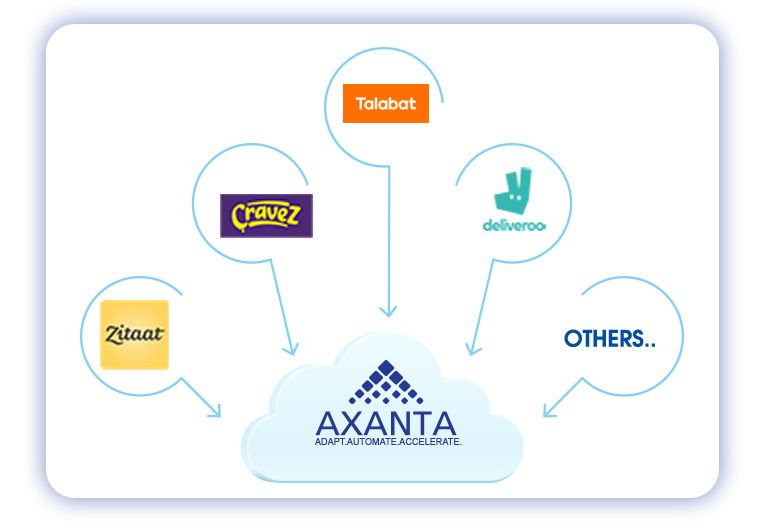 integrate with local online e-commerce channels
Connect with major food ordering platforms like Talabat, Deliveroo, Zitaat, etc and manage all online orders easily.
By Integrating with Axanta, receive each and every order on your Point of Sale system and make your operations simpler.
Get round the clock orders by expanding your reach to a vast audience and earn profits to a great extent.
INCREASE CHECKOUT SPEED & FLEXIBILITY
Our solutions include a copy of the database on each POS, providing maximum speed and resilience no matter how many POS are being used in-store.
Even during peak hours, we guarantee that there will be no loss of speed or accuracy, you can always assure fast-paced operations, to your customers' satisfaction without any hassles.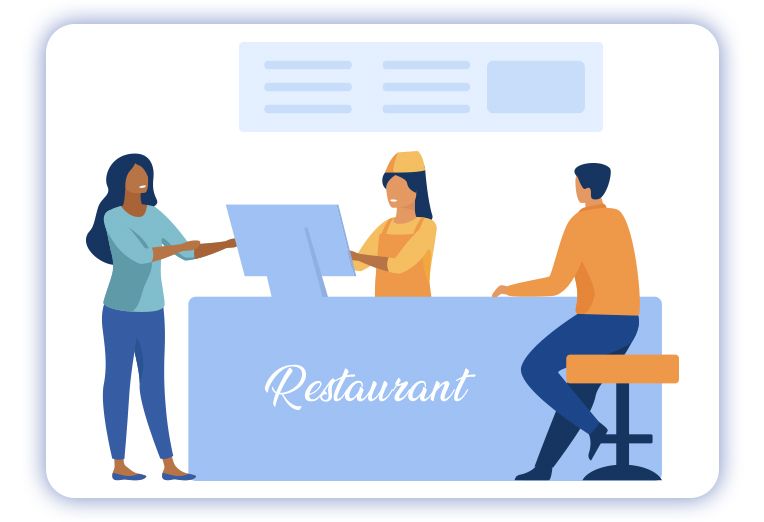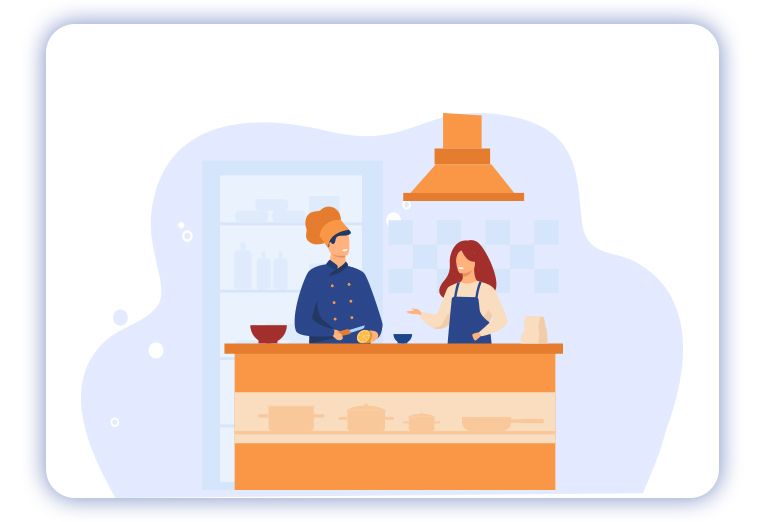 RECIPE MANAGEMENT
With Axanta ERP, a recipe can be entered for each item. You can store an unlimited number of recipes and instantly analyze the cost incurred. From updating prices of a particular recipe till changing ingredients, everything can happen with a touch of a button.
Maintain recipes across all your outlets to manage consistency in dishes quality and taste.

STREAMLINE INVENTORY MANAGEMENT
Our real time inventory solution gives visibility to staff in-store to better control stock.
Axanta's auto-replenishment process eliminates the headache of listing out the items manually. It helps to compare the theoretical and actual usage & identify problem areas.
Take cost control to a new level with proper recording of stock waste. Increase your profit margins by quantifying what you're wasting and improve your bottom line.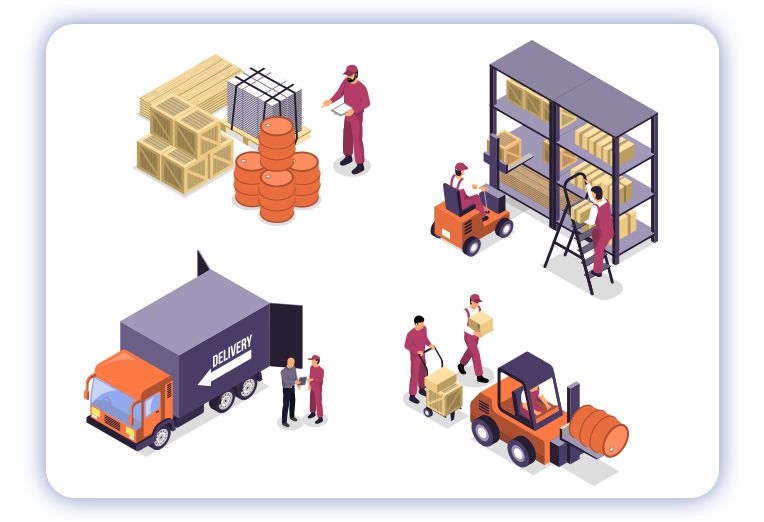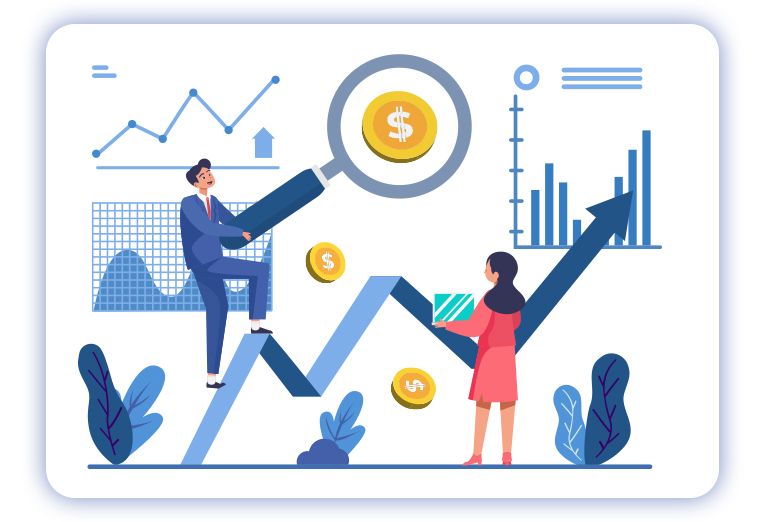 FINANCE & ACCOUNTING
Develop Efficient forecasting Models & use financial information to plan for future activities.
Produce Trial Balance, Balance sheet, Cash Flow & P/L statement to get a proper visibility on the financial performance of the business.
Allow your restaurant to get smarter and ease your financial operations with Axanta.
LOYALTY PROGRAM AND GIFT CARDS
Axanta's built-in Customer Loyalty Program counts points for every purchase made by the customer. These points can be converted into discounts, free goods and other bonuses. Axanta's Solution will motivate customers to shop frequently thereby increasing your store business.
Also, Axanta's Gift card scheme are perfect for any event, an easy way to attract new customers and improve sales. Axanta's Point of Sales solution lets you enable Gift cards with a simple click, and your customers can redeem it in-store.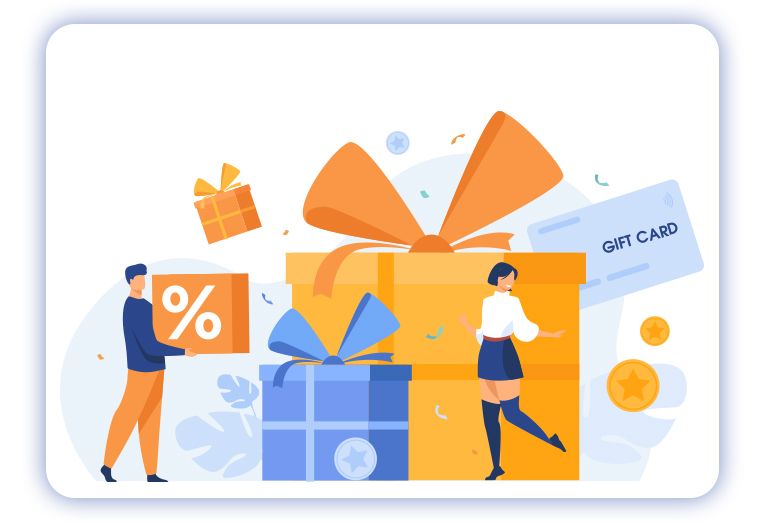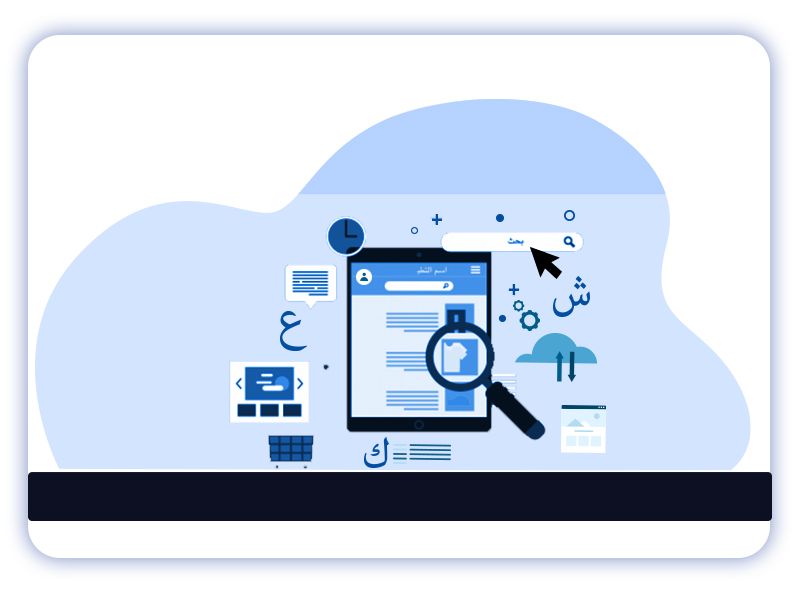 ENGLISH/ARABIC USER INTERFACE
Axanta ERP & POS has been designed in English and Arabic Language along with multi-lingual user interface support.
User can easily enter the data in Arabic text and numeric through Arabic enabled keyboard as well as view and print all the reports in Arabic with proper alignment, orientation and content.
Axanta ERP & POS has been developed with the latest IT Technology keeping in mind the GCC environment, in a simple form that uses English and Arabic language with High Flexibility.
POWERFUL BUSINESS Insights
Be ahead of the competition by getting real-time visibility through intelligent reports. Acquire immediate Knowledge on your sales, inventory, customers and more.
Axanta's valuable analytics gives you insights on your operations and help you come up with better business decisions. Monitor the sales and stock in real-time from multiple locations in a single place through your mobile, laptop or desktop device.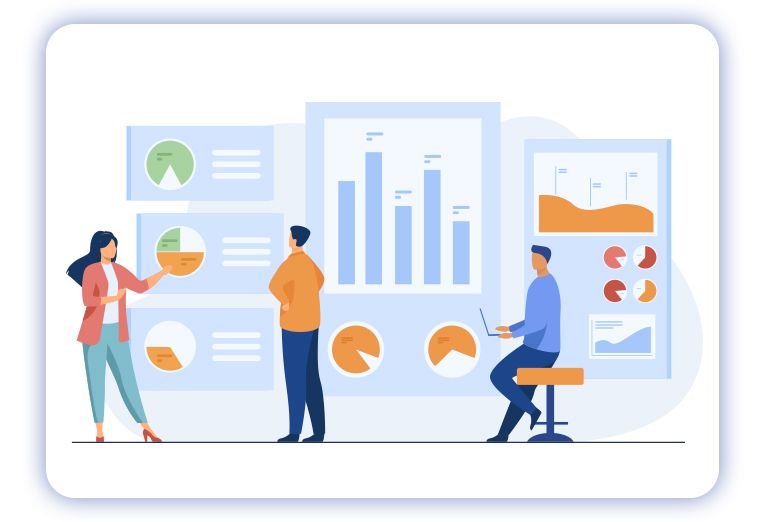 Multi-Branch Business
Centralize your store operations with Axanta's Cloud-based Solution

Request Demo
Features by verticals
Cloud based user friendly POS.
Multilingual Language Support.
Customer Profiling & Management.
Custom Payment Types.
Table Management
End of the Day Reports
Customized Barcode and Label printing
Handheld device support to perform various functions i.e. stock check, price check, shelving, stock receiving transferring etc.
Loyalty Program & Gift Card Support
Recipe Management
Split Screen" Customer Display
Multi-Location user Set-up
Shift Management - Multiple Shift and Shift hand over
Home Delivery Bill and Home Delivery Counter
Central Order Taking (COT) Management
Inventory Control & Stock Management
Configurable Menu
Custom Reporting
Why Choose Axanta?
In a fast moving technological world, it is really important to have a system in place that streamlines your business processes. With Axanta you can: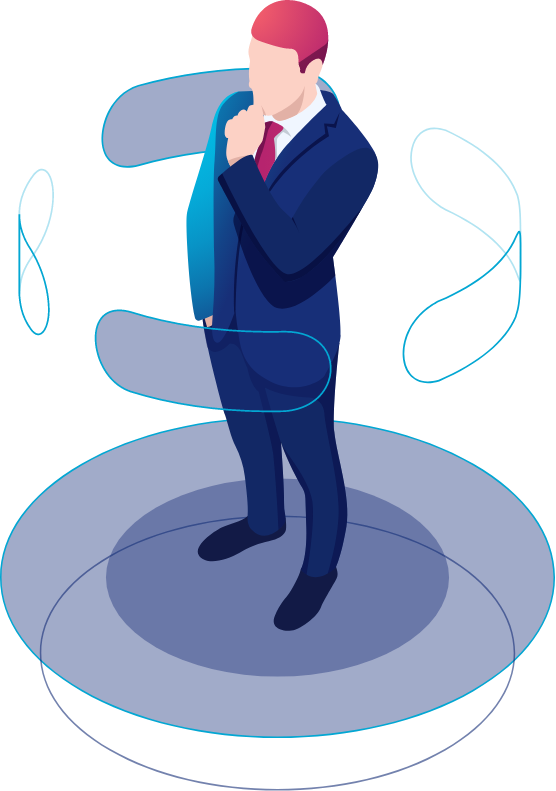 Manage Everything in one Central Platform.
Monitor stock levels within your online and physical stores and trigger alerts when appropriate.
View and Fulfil Orders Easily without Hassle.
Save time, Eliminate Duplication and Increase Efficiency.
Generate Custom Reports to Foster Superior Business Decisions.
50+
HAPPY CLIENTS
100+
POS INSTALLED
500+
USER COUNT
3DAYS
SET UP
Success stories across industries

Axanta understood our needs and helped us streamline our processes in no time. The data can be accessible at any time from any location making the decision process super easy. Axanta has improved the business productivity impeccably.


- Al Noor Int'l Co
Operations Manager, Mr. Mohamed Tofaily

Great product with excellent customer support. The product is very versatile and can be customized to meet just about any Hardware store's need. We can fetch any relevant information from the system within seconds.



Axanta is an Effective, Efficient and Exceptional Software Development firm that customizes our requirements based on the standard needs with Fast and Reliable IT support team which in turn enhances our decision-making process.


- Al Mohra Style
Operations Manager, Mr. Mohammad Salama
Minimize Cost & Maximize Profits with Axanta
Axanta's cost-effective and easy to implement solution centralizes and automates the entire operations into one single platform leading to complete customer satisfaction & High Returns on Investment.
Wondering if Axanta would be the right solution for your business? Schedule a demo today and see what Axanta can do for your business.
Get Quotation
Schedule Demo